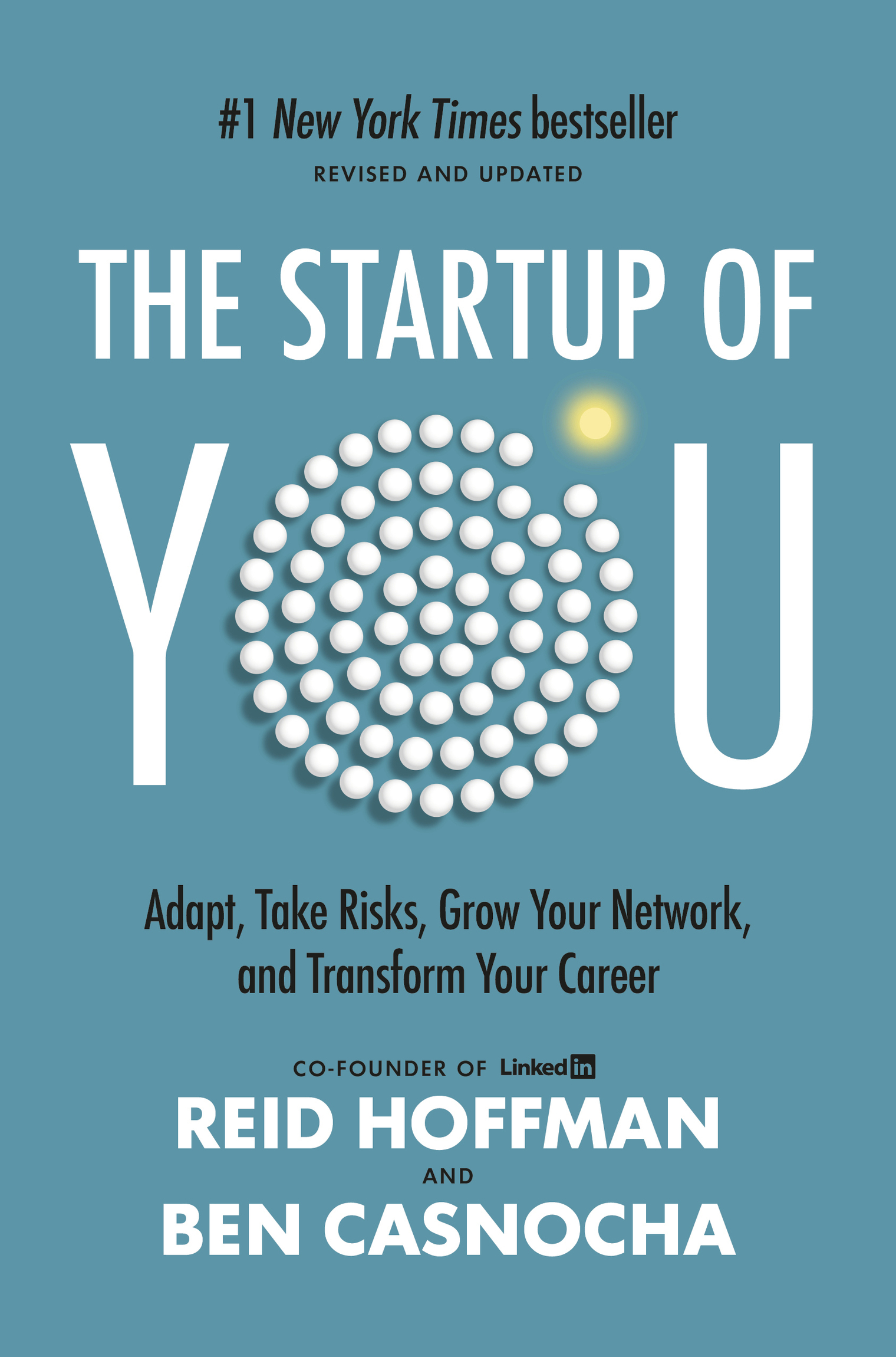 About the authors :
Reid Garrett Hoffman is an American internet entrepreneur, venture capitalist, podcaster, and author. Hoffman was LinkedIn's co-founder and executive chairman, a business-oriented social network used primarily for professional networking. He is a partner at the venture capital firm Greylock Partners and a co-founder of Inflection AI.
Ben Casnocha is a Silicon Valley-based entrepreneur, author, and investor. He is the cofounder and partner at Village Global, an early-stage venture capital firm that invests in startup entrepreneurs.
This book is not an instruction manual for finding a job. You will not find advice on how to put together a resume or get ready for a job interview. Instead, you will learn how to deal with the difficulties of the modern workplace. Employees need to find their inner entrepreneur and use it to jump into new types of jobs. The way people usually start their jobs after finishing university and then slowly move up in their careers until they retire is not happening as much anymore.
This is because two big things are happening: the economy is getting tough, and technology is changing fast. There is a more significant gap between people who understand how jobs work now, have the right skills for a world connected all over, and still think about careers in the old way.
Six strategies can help you get ahead, regardless of your industry or experience level.
Give yourself a competitive edge by combining your assets, goals, and market reality.
Your Assets
There are both soft and hard job assets to keep an eye on.
We have to be patient and not rush to exchange things we can't touch, like what we know, the people we know for work, the trust we have with them, the things we're good at, and how much other people know and notice us, for a higher salary. Our salary is not only determined by our hard assets but also by our abilities, relationships, and life experiences. It is important to note that our asset mix is not fixed. If you do not have specific skills that make you more competitive, you should work on getting them. But do not use them as an excuse.
Aspirations
Aspirations and values include your natural wishes, ideas, goals, and plans for the future, regardless of your existing assets. It is about what is important to you in life. Aspirations and values are essential to your competitive edge in your job because you work harder and better when you care about what you do.
How the market works
It does not matter how smart you are, how hard you work, or how passionate you are if a market doesn't exist. Studying how the market works is a very important thing to think about.
You can invest in yourself by following this plan:
Write down some of your most essential assets regarding how the market works. Think about how you add value to your job right now. Make a plan for investing in soft assets that focuses on learning about growth markets and their chances for growth. Why not get together with three people you trust and ask them what they think are your best qualities?
Use ABZ planning to make a Plan A based on what makes you different from your competitors.
ABZ planning is a flexible method that encourages making mistakes.
What you are doing right now is Plan A.
Plan B is what you aim for when changing your goal or how you will get there.
Plan B becomes your new Plan A once you switch to and stick with it.
Plan Z is your last chance. It keeps you from becoming homeless. Plan Z lets you take risks and deal with uncertainty in Plans A and B.
Your career plan should maximise your strengths, point you toward your goals, and consider the market's reality.
Plan to do things that will help you learn the most about yourself and the world. In the long run, you'll not only make more money, but you'll also enjoy your job more. Ask yourself, "Which plan has the most potential to teach me something?" The tech business has taught us that it is better to be ahead of a significant change than behind it.
Make a list of what you do not know, what you doubt, and what you want to know about your job right now.
Make a plan to gain more marketable skills, which are skills and experiences that can be used in many roles.
Once you know which transferable skills to focus on, make a clear action plan and stick to it, whether signing up for a course, attending a conference, or just spending an hour a week learning on your own.
Make real, long-term connections with people and use these connections to build a strong business network.
In the business world, building genuine relationships is a lot like dating. There are many essential things to consider when choosing whether or not to form a professional relationship with someone. Whether you like the person or not, focus on the things they do that can help you build your assets and reach your goals.
When the person is flexible, they can help you change your job plan as needed. And just like when you date, you should always think about the long run.
Relationships are meaningful because the people you spend time with shape who you are and become. The fastest way to change yourself is to hang out with people who are already like you.
Roadmap: Look at your calendar for the last six months and figure out the five people you spend the most time with. Are you happy with the effect those five people have on you?
Plan an event where your friends can bring a few of their friends; in other words, ask your extended network.
It does not matter who you know. All that matters are the people they know.
Make connections, be resourceful, and keep moving to find and make chances for yourself.
If you are looking for an opportunity, you are looking for people. Always remember that people, not companies, are the ones who give you a job.
If you do not know where to start, go to www.meetup.com, attend after-work events, or join a company network on LinkedIn. Do not forget to keep your eyes open at all times! I got a job as an IT recruiter at my previous company during an event for IT professionals in Montréal.
The co-founder of Flickr, Caterina Fake, says, "The less money you have and the fewer people and resources you have, the more creative you have to be."
Take calculated risks as you look for work options.
A job always has uncertainty and risks, but the dangers change over time. Your competitors and the world are changing, so we are all risk-takers. Many people think the best way to have a stable job is to. However, in a constantly evolving world, taking risks is one of the riskiest things you can do.
Remember that the best and biggest chances are usually the ones with the most question marks. The only long-term path for your brand to deal with risk is to be resilient.
The roadmap is finding opportunities you are willing to take, but most people avoid them. Find a job with risks like these. It will set you apart from other people.
Use the information you get from the people you know to find better job opportunities and make better career choices.
To excel in a specific market niche, it is essential to utilize resources such as books or tools to identify the necessary skills. Only your network can tell you that.
The plan.
Update your LinkedIn profile's news feed to show the most helpful information. If you have a Twitter account, are you following the right people?
Make yourself the go-to person in your network for certain things. Write topic blogs or set up discussion groups to let your friends know what interests you and at what you are good. When people come to you for information, you learn it together.
Our work is changing. Additionally, global economic forces are now more powerful than ever in dictating our careers.
Invest in your best asset: You!
Audio : LinkedIn founder Reid Hoffman joins Jessi alongside his co-author of The Startup of You, entrepreneur and investor Ben Casnocha, for a conversation about the future of work and the value of treating a career like a startup.
Video: HBR editor in chief Adi Ignatius sat down with London Business School professor Herminia Ibarra, a prolific author who is an expert on career transitions, to discuss: • How to transition smoothly and successfully from one career to another • Being authentic in the workplace without limiting your own growth and evolution • How to break out of insular networks to truly connect with those who can link you to new opportunities.
London Business School professor Herminia Ibarra emphasizes the importance of considering multiple possible selves and exploring multiple paths simultaneously in career transitions. She suggests that individuals should not only focus on the next career step but also explore multiple identities and actively pursue multiple paths. Ibarra provides valuable insights and strategies for improving networking skills, acknowledging that it is a crucial aspect of navigating career transitions successfully, despite many people's dislike for networking. For this episode of  "The New World of Work", HBR editor in chief Adi Ignatius sat down with Ibarra to discuss:
• How to transition smoothly and successfully from one career to another
• Being authentic in the workplace without limiting your own growth and evolution
• How to break out of insular networks to truly connect with those who can link you to new opportunities.
To learn more from Hermina Ibarra's talk, be sure to check the link below for takeaways